Unloading a forklift from a truck causes a load of pain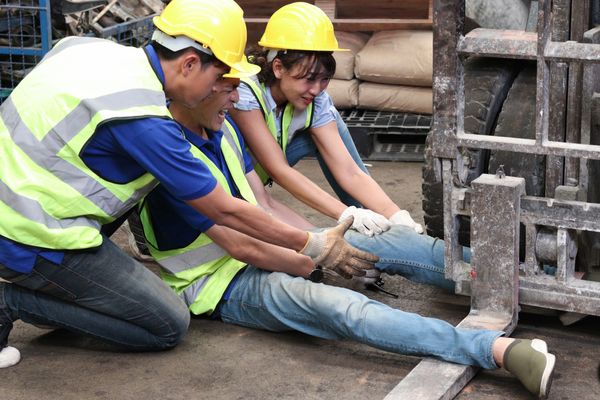 A recent Victorian case highlights the importance of ensuring safe practices are in place regarding mobile plant, including when loading and unloading plant, after a person suffered traumatic leg injuries when a forklift rolled off the back of a truck.
In the case of WorkSafe Victoria v Portland Rusty Scrap Metal Pty Ltd, the Court heard evidence that a new employee was tasked with using a forklift to pick up an old car for scrap from a third-party site. The worker transported the forklift to the site in his truck, however, when reversing the forklift off the truck, a rear tyre slipped off the ramps and became stuck.
The owner of the scrap car assisted the worker with trying to move the forklift back onto the ramps, including by supporting with a wooden sleeper. That attempt failed and, while the worker then went to use the winch located at the front of the truck, the owner went to retrieve a car trolley jack.
Although the following events that occurred are not clear due to the owner not recalling the incident, it appeared that the owner had attempted to jack up the forklift on his own (and without the knowledge of the worker). The forklift then rolled onto the owner's leg, causing traumatic injuries that resulted in a mid-thigh amputation and numerous further operations.
The Court found that the company had failed to develop and implement a documented traffic management plan that included any or all the following steps:
eliminating use of powered mobile plant where possible;
providing barricades or other physical means to separate mobile powered plant from pedestrians (and/or vehicles);
designating loading or unloading zones to separate mobile powered plant from pedestrians (and/or vehicles); and
using a spotter.
Taking into account mitigating factors, including an early plea of guilty and steps taken after the incident to rectify these deficiencies, the Court reduced the penalty from $200,000 to $95,000.
Subscribe to the Health & Safety Bulletin
From the experts behind the Health & Safety Handbook, the Bulletin brings you the latest work health and safety news, legal updates, case law and practical advice straight to your inbox every week.