For everyone's safety, work safely this National Safe Work Month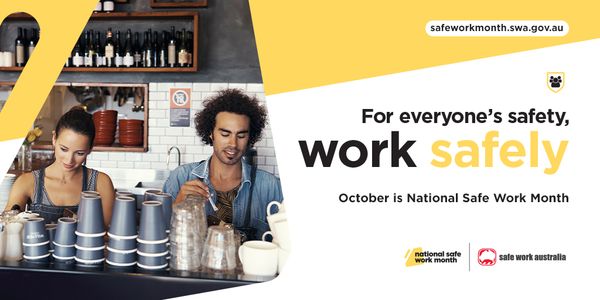 October is National Safe Work Month. The national theme for the year is 'For everyone's safety, work safely'. Some states and territories also have their own themes.
The primary objective of this campaign is to encourage all individuals and organisations to prioritise safety in their workplaces and work towards reducing the number of work-related injuries, illnesses and fatalities.
During National Safe Work Month, each week will focus on a different health and safety topic, which are:
1.      Working together to manage risks at work.
2.      Working together to protect workers' mental health.
3.      Working together to support all workers.
4.      Working together to ensure a safe and healthy workplace.
There are a number of steps you can take to become involved in National Safe Work Month, including by attending one of the many events held throughout the country, which are set out below.
ACT
The ACT's theme is 'Safe Work Month: It's Everyone's Territory' and there will be safety sessions dealing with key focus areas, such as vulnerable workers, psychosocial hazards, safety in the public service and 'all workers, all workplaces'. To see a full list of events, click here.
New South Wales
New South Wales has a variety of online events and workshops available during Safe Work Month, which focus on improving safety practises in the construction industry and providing tools to employers to better manage hazardous manual tasks. For more information, click here.
Northern Territory
NT WorkSafe will be hosting six sessions, which you can attend either online or in-person, that deal with psychosocial hazards, workplace bullying, work representation, heat stress and UV safety. To find out more information, click here.
Queensland
In Queensland, there will be various interactive activities and events through the period. Key topics will include risk assessment, mental health and wellbeing, emergency response planning and innovative safety technologies. Queensland will also be hosting the Work Well Conference on 17 October 2023 and Work Well Speaker series. For more information on what's on, click here.
South Australia
South Australia is running a workplace activity competition encouraging organisations to run their own events to raise awareness about work health and safety, and register these events with SafeWork SA. Examples of workplace events range from a safety quiz to producing video or training courses. For more details about the competition, click here.
Tasmania
In Tasmania, there will be several in-person and online events that focus on work health, safety and wellbeing, with the theme being 'Safe Bodies, Safe Minds'. See the full program of events here.
Victoria
Victoria is hosting a series of online webinars that discuss a broad range of health and safety issues, as well as regional in-person events in places such as Wangaratta, Ballarat and Bendigo. For more information on these events, click here.
Western Australia
Western Australia's Safe Work Month will include in-person and online forums with industry speakers. Western Australia's theme is 'Our way forward: Prioritising healthy and safe workplaces'. The topics include occupational health and hygiene, psychosocial hazards and agricultural safety. For more topics and resources, click here.
National
A full list of contacts for activities in each state and territory for National Safe Work Month can be found here.
For more ideas and resources for making your workplace safer, click here.
Create your own event
Don't forget, as leaders in your organisation or safety professionals, it is your role to promote and build the safety culture. Use the opportunity of National Safe Work Month to arrange an event in your organisation or team.
Image: Sourced from Safe Work Australia
Subscribe to the Health & Safety Bulletin
From the experts behind the Health & Safety Handbook, the Bulletin brings you the latest work health and safety news, legal updates, case law and practical advice straight to your inbox every week.